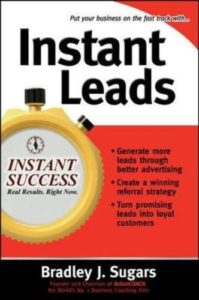 Instant Leads, by Bradley J. Sugars 
Start a steady stream of leads flowing into your business. Brad shows you why generating a constant flow of hot leads isn't nearly as complicated as you might think.
Discover how to:
Run killer print ads, radio campaigns, and mailings

Form strategic alliances with suppliers and local businesses

Use promotional offers and guarantees to set yourself apart from the herd

Make sure your plans are cost-effective with a break-even analysis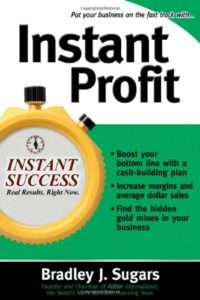 Instant Profit, by Bradley J. Sugars 
Why settle for less when you can have stellar profits? Business is brisk and you have a solid core of loyal customers. So why aren't you raking in bigger profits? Sounds like it's time to see what you could be doing better – and Brad Sugars is the best there is. A self-made multimillionaire and entrepreneurial expert, Brad helps you identify ways to improve your business and boost profits fast using 4Ms of profit: 
MANAGEMENT: team training, better record keeping and effective time management

MONEY: auditing, budgeting, and pricing

MARKETING: up-selling, add-on selling, and using lists of qualified leads

MERCHANDISE: increasing the number of big margin items or services, carrying exclusive product lines, and only selling fast-moving stock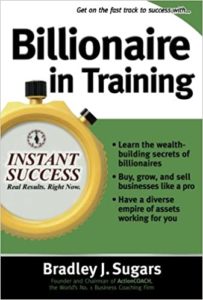 Billionaire in Training, by Bradley J. Sugars 
"If there's one thing self-made millionaire Brad Sugars knows, it's that getting rich is a lot simpler than most people realise. In Billionaire in training he puts you on the fast track to wealth creation through buying, building and selling businesses. Doing it at a faster pace than you ever thought possible ."
Discover how to:
Climb the 5 Levels of Entrepreneurs

Buy promising businesses, increase their value, and sell them for top dollar

Transform your innovative ideas into a successful business empire

Set up businesses that run themselves and provide you with the capital to expand your investments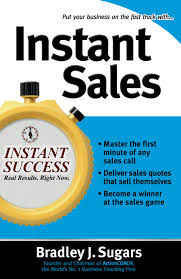 Instant Sales, by Bradley J. Sugars 
Unleash the inner sales person you never knew you had. From financial advice to hairstyling, fitness training to auto parts, no matter what your product or service, you've got to sell to stay in business. A multimillionaire by age twenty-six, Brad Sugars delivers techniques for infusing your business with a powerful sales ethic and creating super sales success.
Learn how to:
Deliver sales quotes that instil prospects with trust

Provide the kind of service that keeps customers coming back

Master the first crucial minute of any sales call

Set up a point-of-sale system they can't ignore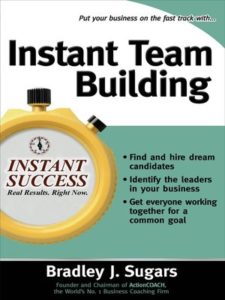 Instant Team Building, by Bradley J. Sugars 
self-made multimillionaire and entrepreneurial expert, Brad Sugars explains all the elements that contribute to a great team and walks you through the process of finding and assembling  a team of motivated, compatible employees who will help you take your business to new heights of productivity, profitability and fun. 
Learn how to:
Master the six keys to a winning team

Conduct interviews that tell you what you really need to know

Create an environment that encourages passion, collaboration, and personal initiative

Promote communication and idea development between team members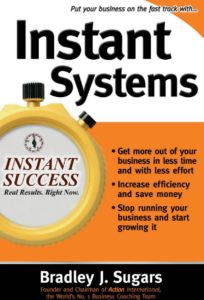 Instant Systems, by Bradley J. Sugars 
Create systems that run every aspect of your business-so you don't have to.
You didn't start your business just to become a slave to it, but how do you get things done the way you want when you're not there? Self-made millionaire and entrepreneurial expert Brad Sugars shows you how. Brad walks you step-by-step through the entire process of systemizing your business. Discover how to:
Recognize the ways systems can dramatically increase productivity and profits
Identify the four key areas in your business to systemize
Put your systems in place without causing mass panic at work
Improve processes at every level of your business and stop wasting time and money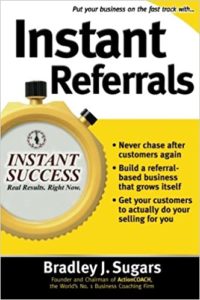 Instant Referrals, by Bradley J. Sugars
If you're the kind of business owner who hates cold calling and chasing after new leads, then you'll love easy referral strategies in Instant Referrals used by self-made millionaire and entrepreneurial expert Brad Sugars.
Learn how to:
Evaluate a referral-based system that's right for your business

Determine which customers you want referring to you and which you don't

Transform satisfied customers into your biggest fans by continually exceeding their expectations

Create ways to use referrals to generate more buzz for your business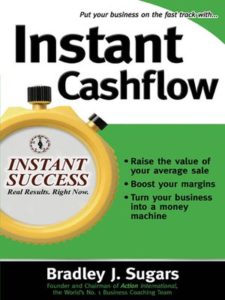 Instant Cashflow, by Bradley J. Sugars 
Discover 282 marketing and sales strategies proven to make more money for you! A self-made multimillionaire and business development expert, Brad Sugars helps you identify your company's hidden Gold Mines, dramatically boost your bottom line and get on the fast track to big profits. And best of all, these crystal-clear, bite sized lessons can be put to work in your business immediately!
Discover how to:
Generate hundreds of promising new leads

Increase your conversion rate of leads to sales

Maximize the value of your average sale

Measure your results and fine-tune your best strategies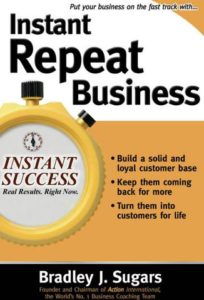 Instant Repeat Business, by Bradley J. Sugars 
Keep your existing customers happy, loyal . . . and buying.
Your promotional campaign worked like a charm and the flow of new customers has been phenomenal. So why are your profits lagging? Maybe because while you were busy chasing after new customers you overlooked your old ones. Entrepreneurial expert Brad Sugars shows you how to cultivate a big base of loyal customers who buy, buy, and buy again. Learn how to:
Offer exclusive sales that bring your best customers back again and again
Delight and win over your customers by continually exceeding their expectations
Achieve the dream of keeping your customers for life!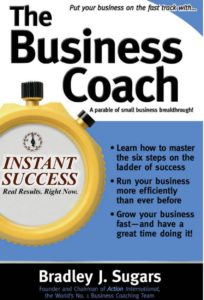 The Business Coach, by Bradley J. Sugars 
Put yourself in the hands of the Business Coach-and run your business like a champion!
Follow along as the Coach demonstrates how to successfully navigate the challenges and recognize the opportunities business owners face every day. The Business Coach uses strategies developed by Sugars and the business coaches at Action International, who have helped nearly a million business owners worldwide realize their dreams. You'll learn:
The story of business basics for beginning and experienced business owners
How to pinpoint problem areas, develop winning strategies, and measure your progress
The secrets to true financial freedom by building a successful company that runs itself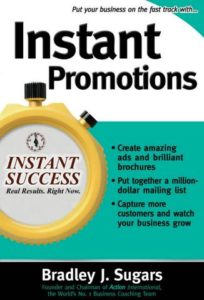 Instant Promotions, by Bradley J. Sugars 
Get the good word out about your business!
When it comes to attracting customers, the only difference between your company and Sprint, Apple, or Burger King is great promotions. But what if you don't have millions for sophisticated PR and advertising campaigns? No problem. A self-made multimillionaire and business expert, Brad Sugars helps you create compelling press releases, sizzling ads, irresistible in-store promotions, and other promotional tools that get customers flocking to you. Discover how to:
Identify and reach your target market
Use the media to your advantage
Attract influential special interest groups
Design eye-catching materials that help you stand out and get noticed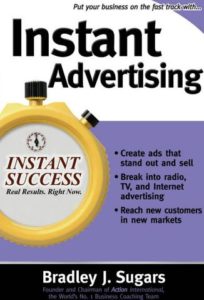 Instant Advertising, by Bradley J. Sugars 
Wage a million-dollar ad campaign on a shoestring budget.
When it comes to attracting customers, the only difference between your company and Microsoft, Ford, and Coke is great advertising. In Instant Advertising you'll find everything you need to create killer ads that won't break the bank. Learn how to:
Design, write, and create ads for optimum "buy-appeal"
Uncover low-cost ways to advertise on radio, TV, and the Internet
Communicate effectively to different customer niches
Create a buzz that'll keep consumers talking-and buying
Put your business on fast track
Get real results right now when you discover what these books have to offer!