Thinking about starting a business? Check out these great books for Entrepreneurial and Business Owner know-how. Best of all, they're not just books and further knowledge – these are launching pad for assist you and your business for Success!
Best Books to Read for Entrepreneurs and Business Owners
The E Myth
Book by Michael E. Gerber
An instant classic, this revised and updated edition of the phenomenal bestseller dispels the myths about starting your own business. Small business consultant and author Michael E. Gerber, with sharp insight gained from years of experience, points out how common assumptions, expectations, and even technical expertise can get in the way of running a successful business.
Gerber walks you through the steps in the life of a business—from entrepreneurial infancy through adolescent growing pains to the mature entrepreneurial perspective: the guiding light of all businesses that succeed—and shows how to apply the lessons of franchising to any business, whether or not it is a franchise. Most importantly, Gerber draws the vital, often overlooked distinction between working on your business and working in your business.
The E-Myth Revisited will help you grow your business in a productive, assured way.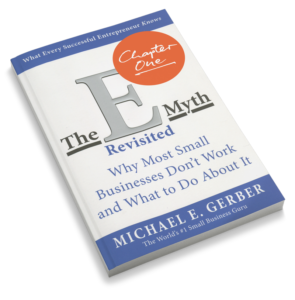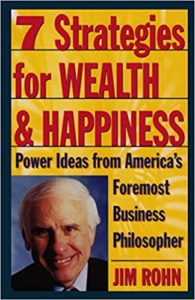 7 Strategies For Wealth And Happiness
"You don't have to choose between wealth and happiness–they spring from the same fountain of abundance. "
With this book, you will discover the seven essential strategies you need for success:
Unleash the power of goals
Seek knowledge
Learn how to change
Control your finances
Master time
Surround yourself with winners
Learn the art of living well
Fanatical Prospecting
By Jeb Blount

Ditch the failed sales tactics, fill your pipeline, and crush your number Fanatical Prospecting gives salespeople, sales leaders, entrepreneurs, and executives a practical, eye-opening guide that clearly explains the why and how behind the most important activity in sales and business development—prospecting. The brutal fact is the number one reason for failure in sales is an empty pipe and the root cause of an empty pipeline is the failure to consistently prospect. By ignoring the muscle of prospecting, many otherwise competent salespeople and sales organizations consistently underperform. Step by step, Jeb Blount outlines his innovative approach to prospecting that works for real people, in the real world, with real prospects. Learn how to keep the pipeline full of qualified opportunities and avoid debilitating sales slumps by leveraging a balanced prospecting methodology across multiple prospecting channels. This book reveals the secrets, techniques, and tips of top earners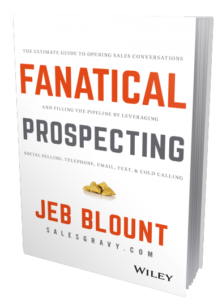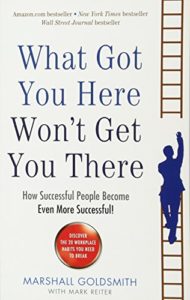 What Got You Here Won't Get You There
"Your hard work is paying off. You are doing well in your field. But there is something standing between you and the next level of achievement. That something may just be one of your own annoying habits. Perhaps one small flaw – a behaviour you barely even recognise – is the only thing that's keeping you from where you want to be. It may be that the very characteristic that you believe got you where you are – like the drive to win at all costs – is what's holding you back. As this book explains, people often do well in spite of certain habits rather than because of them-and need a "to stop" list rather than one listing what "to do"."
Marshall Goldsmith's expertise is in helping global leaders overcome their unconscious annoying habits and become more successful.
Recently named as one of the world's five most-respected executive coaches by Forbes, he has worked with over 100 major CEOs and their management teams at the world's top businesses.
Eat That Frog!
By Brian Tracy 
"There just isn't enough time for everything on our 'To Do' list – and there never will be. Successful people don't try to do everything. They learn to focus on the most important tasks and make sure they get done.
There's an old saying that if the first thing you do each morning is to eat a live frog, you'll have the satisfaction of knowing that it's probably the worst thing you'll do all day. Using 'eat that frog' as a metaphor for tackling the most challenging task of your day – the one you are most likely to procrastinate on, but also probably the one that can have the greatest positive impact on your life – Eat That Frog! shows you how to zero in on these critical tasks and organize your day. You'll not only get more done faster, but get the right things done."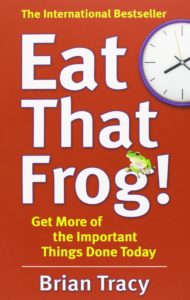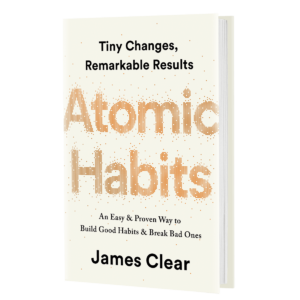 Transform your life with tiny changes in behaviour – starting now.
People think that when you want to change your life, you need to think big. But world-renowned habits expert James Clear has discovered another way. He knows that real change comes from the compound effect of hundreds of small decisions – doing two push-ups a day, waking up five minutes early, or holding a single short phone call.
He calls them atomic habits.
These small changes will have a revolutionary effect on your career, your relationships, and your life.
The Jelly Effect: How to Make Your Communication Stick
By Andy Bounds
Like throwing jelly at a wall, poor communication never sticks. Too much information and not enough relevance is a problem that pervades almost all business communication. So what's the answer? More relevance and a lot less jelly. The Jelly Effect teaches you simple, memorable and costless ways to win more attention and more business. Imagine how effective you'd be if you communicated only what was relevant 100 percent of the time.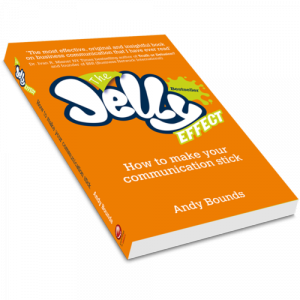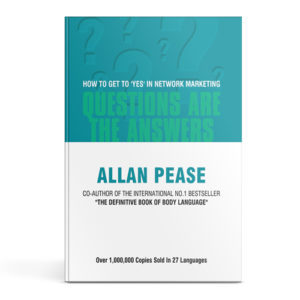 How to get "YES" in Network Marketing
Questions Are The Answers
By Allan Pease
In QUESTIONS ARE THE ANSWERS, Allan Pease documents, for the first time, one of the most remarkable techniques ever seen in Network Marketing. Using simple, field-tested skills and and strategies, you will learn how to build your networking business to a level beyond your wildest dreams. This book will show you how to achieve a lifetime of top-of-the-line income. Even if you're not a Network Marketeer, this information will change forever the way you look at the negotiation and persuasion process.